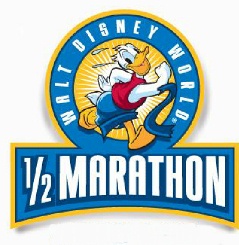 Race Review: Walt Disney World Half Marathon Review
January 12, 2013
No race at Disney World would be complete without lines or crowds. For the half marathon it was no different. The expo was great, but crowded when we went Friday afternoon. There were lots of vendors with good deals, I even got Zoot compression socks for 40 bucks! So, over all a great start to the weekend. Plus the race shirts weren't too bad themselves.
Tip: Disney shirts run big so if you are petite make sure to get an x-small
The Walt Disney World Half Marathon starts at 5:30 in the morning. Since the weather was hot and humid this year it was a good thing it started early! Disney provides great transportation between Disney reports and the start of the race, just be prepared to be on a bus by 3:45 AM. I recommend staying on Disney property and taking the bus, if not you might get stuck in major traffic jams. The buses drop you off about a mile away from the start, from there it is about a mile walk crowded with runners!
On the walk between the bus drop off and the corrals you will find the entertainment area where you can easily locate after race meet-up points, bag check and information tents. Disney does a great job making your early morning as easy as possible, besides the massive crowds
TIP: Bathrooms located right by the entertainment area will be packed so try to skip those and head closer to your corral. We waited 45 minutes for the bathroom and just barely made it to our corral. Oh, and also make sure to wear a sweet costume!
After finally making to through the bathroom line we started the long trek to the corals. We were signed up to start in corral B but decided since we were running much slower then we predicted when we signed up, we chose to start with corral C. Unfortunately this was a mistake. It was crowded and we couldn't even all fit into the coral before the gun went off. Luckily its a delayed start for each corral (5 mins between each one) so there was a little space in between corrals.
At about 5:45 AM coral C headed to the start. I will give Disney credit they had fireworks going off for each corral start so no one, no matter how far back, missed out on the fun! As always all runners are well entertained even while waiting to start, there is never a dull moment. (If you can't tell by this point, I highly recommend this event.)
Miles 1-3: These first few miles are pretty un-eventful but FLAT! Even though we spent most of our time trying to find room to run, it gave us a chance to catch our breath and find a groove! I've run the Disney Princess Half and do not remember having  problem finding elbow room, perhaps 25 thousand runners was just too much for even the wide highway roads you are running on. Along the way Disney's Pirates of the Caribbean characters and highschool bands pumped us up as we headed towards… THE MAGIC KINGDOM!!!
Miles 4-7: Heading through the entrance to the Magic Kingdom is when we really started to feel the Disney magic. Just past the entrance we ran by Disney's Motor Speedway and through a few parking lots before we entered into the Magic Kingdom through a side cast entrance. At mile 5 we rounded onto Main Street USA with a beautiful view of the castle.
Lots of fans and race supporters came out early to cheer us on as we ran through the crowded streets. Turning to the right off main street right in front of the castle we headed towards Tomorrowland and then into Fantasyland. Just before mile 6 we entered the castle from the back and run down the front steps. Here there are plenty of great photo opportunities! Make sure to wait in line for a clear picture of yourself with the castle. While Disney has lots of photographers  they might miss you! After the castle we turned and headed into Fontierland and then out of the park.
Miles 8-11: After all the thrill of the castle and Magic Kingdom, Disney did a great job keeping our spirits high and our minds entertained as we headed towards the finish. These miles are all run on highways and you can save your knees and feet a bit by running on the grassy shoulder. Expect to run over a few overpasses as you wind towards the finish.
Along the way you can stop and take pictures with a slew of characters. I remember seeing characters from The Nightmare Before Christmas, Beauty and the Beast, Micky, Minnie, Cinderella, Prince Charming, Mary Poppins and Captain Jack Sparrow among others. Some lines are longer than others but it's definitely shorter than waiting for a picture with one of these guys during normal park hours! Disney Photographers will even take pictures with your own camera.
Miles 12-13.1: As we headed towards the finish the crowds started to fill out again. We entered into the front of Epcot at about 12.5 miles. While the run in Epcot is short, Disney employees and fans makes the experience fun. Plus you can get some great photos running around the "golf ball". the last mile is nice and flat so you can kill those last few miles. Just after mile 13 Disney had a gospel group singing and cheering us on to the finish. The crowds are full of energy as your round towards the finish. Such a fun finish line!
The awesome finisher medal.
The Finish: The finish draws a huge crowd of family and Disney employees. The big display and great music makes the finish memorable. Water, poweraide and bananas are handed out right after you finish and you are also provided with a RunDisney snack pack. Of course Disney never misses an opportunity to make money, so you can buy all sorts of different things in the entertainment area (even beer!). I also took advantage of the medical tent to get some ice for my knees!
The family meet up area is well-organized and a good place to relax after your run. They also offer a Race Retreat for an extra fee. I don't think its necessary for the half marathon unless it is your first or you are worried about the crowds.
Pros: Great expo, flat fash course, pace groups, entertainment around every corner, big event, plenty of water and gatorade stops, great medals, cool shirts
Cons: Crowded, expensive, lost of first time runners, big event
Overall the Walt Disney World Half Marathon is a well organized event and I would recommend it to anyone. There is never a stretch of the journey that you do not see the Disney touch. It is a well supported and well planned race. If you are a big Disney fan or a kid at heart this is the race for you.