Let me start off by saying last nights cookie swap party was so much fun. I got to catch up with some friends and meet some new ones. The best part about the party was hearing how a few of the recipes came about. I love a good recipe with a story!
Since there were so many girls we had a lot of cookies to test… Luckily I prepared by running a lot of miles this weekend and eating low carb all day! Here is a list of the cookies at the party.
No Bake Peanut Butter
No Bake Chocolate Peanut Butter
Salted Pretzel White Chocolate Chip
Chocolate Brownie
Walnut and Pecan
Traditional Sugar
Chocolate Kringle
Peppermint White Chocolate Chip
Chocolate Cookies with Peppermint Icing
Cake Batter Blondie
Ritz Cracker and Peanut Butter Dipped in Almond Bark
Christmas Spice Cookies with Buttercream Icing (See my blog post here)
Chocolate Fudge Cookies (Recipe below)
Talk about a stomach ache, but well worth it! And to my surprise todays recipe for my chocolate fudge dream cookies won for best cookie of the evening. Well I really tied with the host for her Ritz cracker and peanut butter dipped in almond bark cookies, but she let me win :), and I won the best gift possible. Good Housekeeping's "The Great Christmas Cookie Swap Cookbook"!!!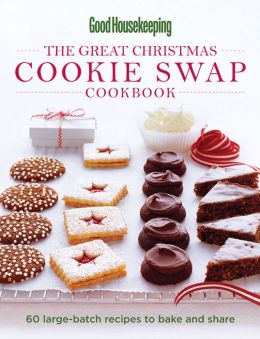 Cookie Baking Tip of the Day: Always cool your baking pans in the fridge between batches. Never place cookie dough on hot pans! You will undo all of your hard work. Chilled pans keep your cookies from spreading out and becoming to thin. Remember from yesterday's tip the key to a soft pillow cookie is all in the chill!
Unfortunately I can't claim today's recipe to be my own! Sally over at Sallys Baking Addiction is the real winner for her amazing recipe. Her original recipe called for a homemade candy cane buttercream icing. But since I'm not perfect…  of course I somehow forgot to purchase candy canes! I went for plan B and left them un-iced! Now what do to with the leftover icing in my fridge….. Anyways!
To be honest after one small taste of the batter I knew these guys didn't need icing at all. The batter is rich and smooth like the best fudge you have ever had. When cooked these chocolate fudge dream cookies come alive with melted mini chocolate chips and a thick chewy texture. If you like thin crispy cookies this recipe is not for you!
Chocolate Fudge Dream Cookies: (Makes about 2.5 dozen cookies) From SallysBakingAddiction
1 Cup plus 1 Tablespoon All Purpose Flour
1/4 Cup Unsweetend Cocoa Powder
1 Teaspoon Baking Powder
1/4 Teaspoon Salt
8 Ounces of Bakers Semi-Sweet Chocolate (chopped)
2 Eggs
1 Teaspoon Vanilla
5 Tablespoons Unsalted Butter
3/4 Cup Brown Sugar
1/4 Cup Sugar
1 Cup Mini Chocolate Chips
Directions:
1) Melt the chopped bakers chocolate in a bowl in the microwave in 30 second increments until all melted. Use a rubber spatula to stir in between turns in the microwave. When done set aside.
2) Sift together flour, cocoa, baking powder and salt in a medium bowl. Set Aside.
3) In a large mixing bowl cream the butter until light and fluffy. Add sugars and beat for about a minute more. Beat in the egg and vanilla until incorporated.
4) Slowly pour the melted chocolate into the wet mixture with your mixer set on a low setting (I used a hand mixer, but it required some balancing talent!).
5) Once all the wet ingredients are mixed add in the dry ingredients little by little until evenly mixed. Try not to overmix!
6) Fold in the mini chocolate chips.
7) Place in an airtight container to rest overnight, or at least 3 hours.
8) To bake, pre-heat oven to 350. Line baking pans with aluminium foil. Scoop out the chilled dough and round into slightly flattened balls about the size of a tablespoon.
9) Bake for 10 minutes, some of mine had to be put back in to oven for a couple more minutes because they didn't firm even after cooling. So keep an eye on them. If they look to moist bake longer, but not more than 13 minutes.
10) Cool on a baking rack and enjoy!
O M G !!!
After a night resting in my fridge.
Vola!
Still to come this week for cookie week is a few vegan options!
Tonight I will work out extra hard at the gym. What are you doing to counteract those extra holiday pounds?