I love reading books. I believe it all stems back to a friendly 1st grade competition with a classmate to see who could read the most books. I beat her, hands down… she cried. Ok maybe she didn't in front of me, but oh well.
My favorite types of books are autobiographies. I love all types of autobiographies! Right now I'm in the process of reading every presidents autobiography. I'm working my way backwards and have so far made it to Nixon. Let me tell you its pretty interesting, and it also can put me to sleep in about 5 minutes at the end of the day!
Over all I like books that inspire, whether it's a workout book, a cook book, or an olympians story. Since Christmas is coming up I thought it would be a good idea to share a few books that I think your health nut/vegan/running buddies might like.
For Workout Junkies:
The Complete Book of Abs by Kurt Brungardt– This is probably one of the more important books in my life! This book comes with a 16 week ab workout program that guarantees results. And I know first hand how much of a difference doing these moves on a weekly basis can improve your running and strength training workouts. Since starting this abs program 7 weeks ago I've gotten significantly more stable when doing leg work and push ups.  A stable core is key to overall fitness!
Zero Regrets: Be Great Than Yesterday by Apolo Anton Ohno. Apolo is my favorite athlete hands down. I love his story and I love how hard he works. I read this book last year after my friend Andrea over at Andreas Adventures gave it to me. Apolo's main message is that you never want to finish a workout feeling like "what if". On days when I want to hold back because I'm scared I will be too sore for the next days workout or I don't want to do an extra rep I often think of Apolo and his drive. This is a must read!
For Vegan Foodies:
Skinny Bitch, Ultimate Everyday Cookbook by Kim Barnouin– The first time I ever gave veganism a try was because of Kim's book called Skinny Bitch, what a life changer! Whats great about this cookbook is that not only has Kim softened up her harsh tone she also gives you some great fresh vegan options that are easy enough to make at home with out fancy ingredients or tools.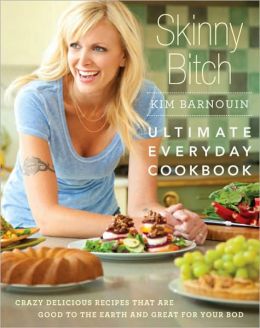 Just Desserts- Delicious, Nutritious Raw Desserts by Heather Pace– I follow Heather's blog Sweety Raw and I am always drooling over her recipes. Her Just Desserts book is a vegan sweet lovers paradise. You can buy an e-version of her book here.
For Runners:
A Life Without Limits by Chrissie Wellington– Chrissie's story of how she became the unbeatable world champion of the Ironman is quiet interesting. Her drive to push through the unthinkable really makes you take a look at your own goals and how you can better reach them. While I think she is probably crazy for doing some of the things she does, its interesting to take a look through a champion Ironmans' eyes. The sacrifices she makes to be who she is, is outstanding!
Born to Run by Christopher McDougall–  Most runners have probably heard about this book already, so if it's not on their book shelf get it for them now! The best part about this book which follows a native tribe in mexico with an uncanny running ability, is that it shows how running doesn't have to be just about training. Running can be a way of life and a way to find yourself.
What are you reading lately? Are there any books that your recommend?